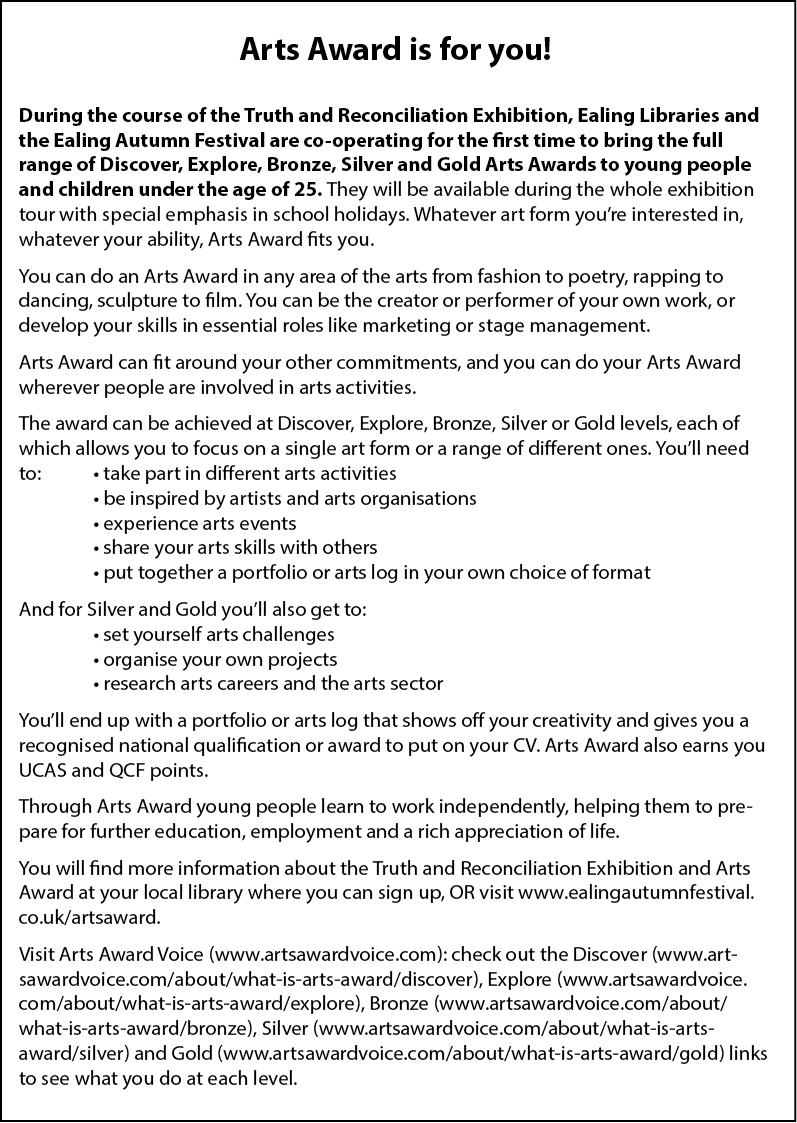 DECEMBER 2017
Sunday 10 December
West London Sinfonia www.westlondonsinfonia.org
FUN FOR FAMILIES Younger Years
A concert of short pieces for orchestra inspired by Winter from The Seasons by Vivaldi – so bring your warmest clothes.
Our Leader Iwona Boesche will introduce Winter, and play the solo violin part.
Other pieces will include A Winter Bonfire, A Troika Ride, Thunder & Lightning, The Skaters' Waltz and some surprises as well as carols and songs for Christmas.
3pm. St Michael & All Angels W4 1TT (Turnham Green station)
£10 (children £5) Enquiries: 020 3475 4200
Thursday 28 December
Conjuring at the Court www.conjuringatthecourt.com
CHILDREN'S MAGIC SHOW Younger Years
Let your children enjoy the magic of Christmas with a wonderful magic show! The annual Children's Magic Show by the producers of Conjuring at the Court returns to the Drayton Court for its 8th year. With top professional children's entertainer Andy Clockwise and master magician Scott Penrose, president of the Magic Circle. Adults will be baffled and entertained too!
2.30pm. Drayton Court, 2 The Avenue, West Ealing, W13 8PH
Children £7, adults £9  Enquiries: 07775 587708 / tickets@conjuringatthecourt.com
Thursday 28 & Saturday 30 December
HEOS Musical Theatre www.heos.org.uk
DICK WHITTINGTON Younger Years
This family-friendly pantomime is packed with excitement and adventure. Cheer the goodies, boo and hiss the evil Ratbag, and help Dick and his faithful cat Tommy win through.
There is fun, slapstick, romance, a scary rat scene, stunning costumes and magical song and dance, but we need lots of participation from you, the audience.
2pm & 6.30pm. Greenford Hall, Ruislip Road, Greenford, UB6 9QN
£13.50, £8.50 & £8. No booking fee, no hidden extras. 
  Online booking via www.heos.org.uk
  Enquiries: 07758 841523 / boxoffice@heos.org.uk
LONG-TERM & REGULAR EVENTS
Saturdays
Suzanne Gribble - Iyengar Yoga http://suzannegribbleyoga.com
  www.facebook.com/SuzanneGribbleIyengarYogaTeacher
TEENS YOGA CLASSES Younger Years
Iyengar Yoga teenage classes focusing on alignment of the body to improve flexibility, strength and stamina and a quieter mind. Beginners welcome.
12.15 - 1.15pm (please check dates in advance).
The Studio, OmPhysio, Mount Park Road, W5 2RP
£7 a session (£18 for a block of three)
  Enquiries: 07916 145786 / suzanne.gribble@gmail.com
Ealing Junior Music School www.ejms.org.uk
  Younger Years
EJMS is a Saturday morning music school for 3-18 year olds; we are based at Twyford C of E High School in Acton. We provide individual instrumental tuition on almost every instrument of the orchestra, as well as guitar and singing lessons, in a relaxed and fun environment. We run some 20 orchestras and ensembles and three choirs, including one for parents, along with musicianship classes for our youngest pupils. Parents can relax in the café. Ensemble-only pupils are welcome. Sorry, we do not do piano lessons.
8.30am - 1.30pm. Twyford CofE High School W3 9PP. Spring term starts Jan 6th.
Charges vary, depending on course taken Enquiries: admin@ejms.org.uk
Weekends, Mondays, Tuesdays, Thursdays
Madhurang Dance
INDIAN DANCE/ BOLLYWOOD CLASSES Younger Years
Classes for children and adults. Learn classical dance form Kathak or Bollywood keep fit classes. ISTD approved exams can be taken; this is optional. You can join the classes at any time. This is a fun activity for one and all. Steps are taught slowly and gradually to the learner's ability. Great care is given and attention. Please call for a free trial class.
Northfields Community Centre, 71a Northcroft Road, West Ealing, W13 9SS
Enquiries: 07922 109289 / crishna8@hotmail.com
Wednesdays, Fridays and Saturdays
Sew What? www.sewwhatcafe.com
LEARN TO SEW OR GET IT FIXED Younger Years
Machine sewing classes for total beginners and intermediate skill. Adult class options: Wed/ Fri/ Sat 10.30am & 12.30pm. Separate after school or holiday club classes for children 9+yrs. Repairs and alterations by quote. Call Debbie to chat sewing!
Garden studio on Brunswick Road, W5 1AH
  debbie@sewwhatcafe.com / 07946 826338