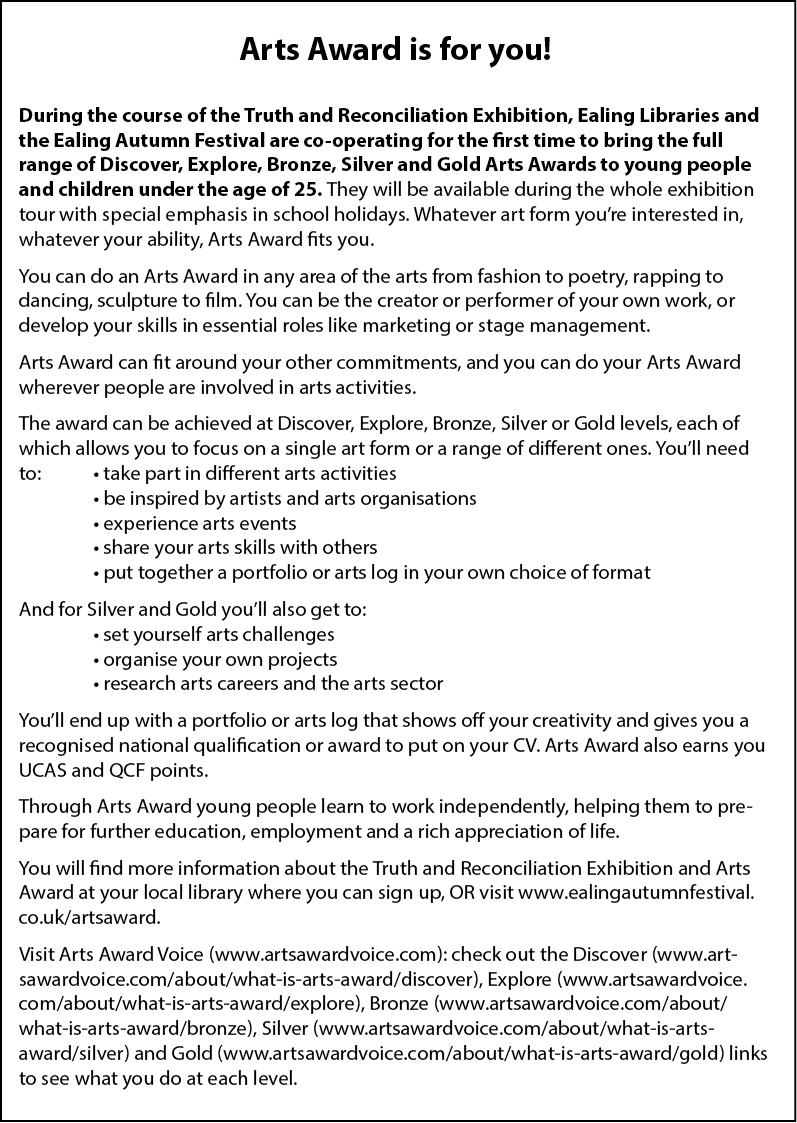 OCTOBER 2017
Saturday 7 October
West London Arts Scene (Ealing Autumn Festival)
  www.ealingautumnfestival.co.uk
MAKING YOUR FUTURE Younger Years
Call for images of People!
Photography workshop launching a community photographic project for everyone who lives, works or studies in Ealing.
More details and how to enter your image free of charge at www.ealingautumnfestival.co.uk.
2-4pm. Acton Library
Free Enquiries: 020 8567 7623 / info@ealingautumnfestival.co.uk
Tuesday 24 October
Ealing Libraries / West London Arts Scene
  www.ealingautumnfestival.co.uk
THE IMPACT OF AFRICAN BLACK MUSIC ON CLASSICAL MUSIC Younger Years
A talk
6-7pm. Ealing Central Library, 103 Ealing Broadway Centre W5 5JY
  Enquiries: 020 8567 7623 / 020 3700 1052 / info@ealingautumnfestival.co.uk
DECEMBER 2017
Sunday 10 December
West London Sinfonia www.westlondonsinfonia.org
FAMILY CONCERT Younger Years
Please see website for details.
LONG-TERM & REGULAR EVENTS
Saturdays
Suzanne Gribble - Iyengar Yoga www.suzannegribbleyoga.com
  www.facebook.com/SuzanneGribbleIyengarYogaTeacher
TEENS YOGA CLASSES Younger Years
Iyengar Yoga teenage classes focusing on alignment of the body to improve flexibility, strength and stamina and a quieter mind. Beginners welcome.
12 noon - 1pm, except August (occasional Saturdays – check in advance).
The Studio, OmPhysio, Mount Park Road, W5 2RP
£7 a session (£18 for a block of three)
  Enquiries: 07916 145786 / suzanne.gribble@gmail.com
Weekends, Mondays, Tuesdays, Thursdays
Madhurang Dance
INDIAN DANCE/ BOLLYWOOD CLASSES Younger Years
Classes for children and adults. Learn classical dance form Kathak or Bollywood keep fit classes. ISTD approved exams can be taken; this is optional. You can join the classes at any time. This is a fun activity for one and all. Steps are taught slowly and gradually to the learner's ability. Great care is given and attention. Please call for a free trial class.
Northfields Community Centre, 71a Northcroft Road, West Ealing, W13 9SS
Enquiries: 07922 109289 / crishna8@hotmail.com
Wednesdays, Fridays and Saturdays
Sew What? www.sewwhatcafe.com
LEARN TO SEW OR GET IT FIXED Younger Years
Machine sewing classes for total beginners and intermediate skill. Adult class options: Wed/ Fri/ Sat 10.30am & 12.30pm. Separate after school or holiday club classes for children 9+yrs. Repairs and alterations by quote. Call Debbie to chat sewing!
Garden studio on Brunswick Road, W5 1AH
  debbie@sewwhatcafe.com / 07946 826338